American actress Carrie Fisher, who brought the iconic Star Wars character Princess Leia Organa into life, passed away on Tuesday, December 27, at 8:55 AM in Los Angeles, as confirmed by her daughter Billie Lourd.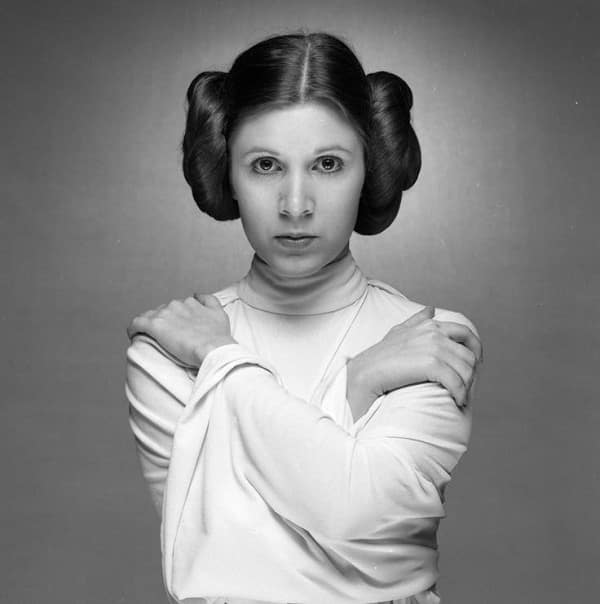 "She was loved by the world and she will be missed profoundly," says Lourd, 24. "Our entire family thanks you for your thoughts and prayers."
On December 23, it was reported that Fisher suffered from a serious heart attack on a flight to Los Angeles from London, and spent Christmas in the intensive care unit of UCLA Medical Centre.
Born on October 21, 1956, the daughter of screen legend Debbie Reynolds and singer Eddie Fisher debuted in the 1975 film "Shampoo" as a seductive teen.
Luke, Leia, and Han Solo in 1977 Star Wars Episode 4: A New Hope. Photo Credit: legionoflea.com
Her biggest break followed after outshining the likes of Jodie Foster and Amy Irving for the part of Leia in George Lucas' Star Wars original trilogy which broke blockbusters in 1977, 1980, and 1983. This 2016, Fisher returned in Star Wars Episode 7: The Force Awakens as a hard-bitten General and earned herself a best supporting actress nomination for the 2016 Saturn Awards. Moreover, she will still appear in the eight Star Wars episode to be shown on December 2017, as she had reportedly finished filming her scenes.
Meanwhile, Fisher's Star Wars co-actors shared their sentiments on the actress' death.
Mark Hamill, who played Fisher's character's twin brother, Luke Skywalker, initially tweeted a short message.
no words #Devastated pic.twitter.com/R9Xo7IBKmh

— Mark Hamill (@HamillHimself) December 27, 2016
10 hours later, he then followed it with a touching "few words."
#AFewWords pic.twitter.com/rOKiPr7gP9

— Mark Hamill (@HamillHimself) December 28, 2016
The man behind Chewbacca, Peter Mayhew, shared his deep condolence as well.
There are no words for this loss. Carrie was the brightest light in every room she entered. I will miss her dearly. pic.twitter.com/GgIeYGeMt9

— Peter Mayhew (@TheWookieeRoars) December 27, 2016
Han Solo actor Harrison Ford, who Fisher later admitted in her book "The Princess Diarist" she had an affair with back in 1977, expressed his emotions on his co-star's death. "Carrie was one-of-a-kind…brilliant, original," he said in a statement to PEOPLE. "Funny and emotionally fearless.  She lived her life, bravely…My thoughts are with her daughter Billie, her mother Debbie, her brother Todd, and her many friends. We will all miss her."
Fisher proved to be a strong force in Hollywood as celebrities like Samuel L. Jackson, Ellen DeGeneres, Anna Kendrick, William Shatner, Jon Favreau, and Kathy Griffin, to name a few, mourned for her death too.
Aside from her acting stint, Fisher was also known as a writer, screenwriter, producer, and a mental health advocate as she was diagnosed with a bipolar disorder.