"Father of Rock 'n' Roll" Charles Edward Anderson Berry Sr, better known as Chuck Berry, was declared dead at 1:26 PM on Saturday, March 18, at a residence outside St. Louis according to the St. Charles County police.
The 90 year-old music pioneer's death was confirmed after the police who responded to a medical emergency on Buckner Road around 12:40 PM and failed to revive him any more despite performing lifesaving techniques.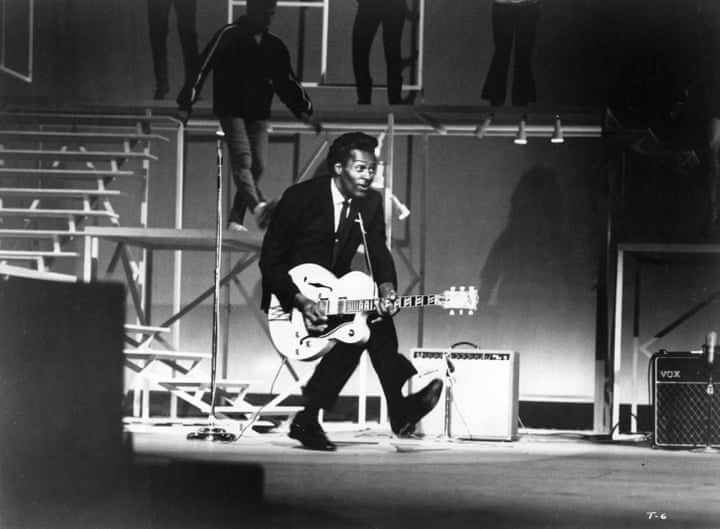 Chuck Berry performing his infamous "duck walk" on stage.
Berry wrote and recorded iconic songs like "Johnny B. Goode" and "Sweet Little Sixteen" that became song standards for rookie musicians in the rock n' roll scene.
Charles Edward Anderson Berry was born in St. Louis, Missouri, on October 18, 1926. His parents, who were grandchildren of slaves, were accomplished in their own ways: father Henry was a successful carpenter, and mother Martha was a college graduate—rare for a black woman at the time.
Discovering his love for music after performing in a singing contest in high school, Berry skyrocketed his career after breaking into the 50s.
Keith Richards of the Rolling Stones idolized him. Carl Wilson of the Beach Boys copied him. Bob Seger, recognizing Berry's far-reaching influence, sang "All of Chuck's children are out there playing his licks" in Seger's "Rock and Roll Never Forgets." Even John Lennon admired Berry and described him most succinctly. "If you tried to give rock and roll another name, you might call it 'Chuck Berry.'"