Seven dead bodies of US Navy were recovered from the USS Fitzgerald on Sunday, June 18, after it collided with Philippine ACX Crystal cargo ship off the coast of Japan on June 17.
According to the authorities, the bodies were being transferred to Naval Hospital Yokosuka for identification.
"This loss is something we all feel," Vice Adm. Joseph Aucoin, commander of the US 7th Fleet, told reporters alongside the ship at Yokosuka Naval Base in Japan Sunday.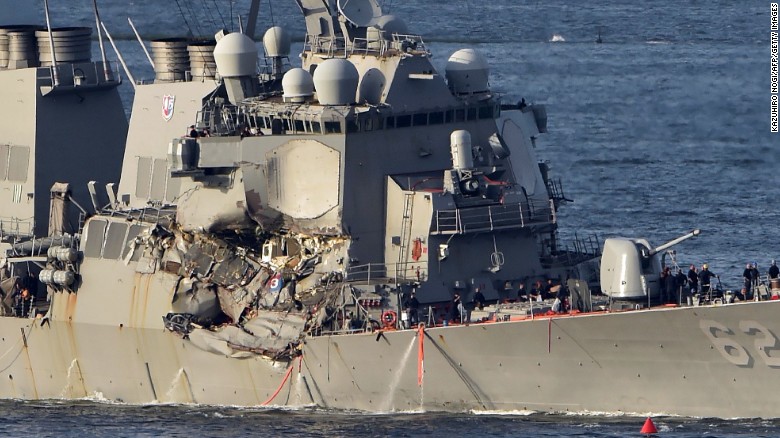 The US Navy destroyer collided with ACX Crystal cargo ship off the coast of Japan, leaving seven crew members from the American vessel unaccounted for, the Japanese Coast Guard said. Photo by CNN
"We have found a number of the remains … of our missing shipmates, and our deepest sympathies go out to the families of those shipmates," he said.
The Navy, with the help of Japanese defense officials, conducted a search operation on Saturday for the seven missing sailors after a naval destroyer collided with a Philippine-flagged merchant vessel operating off the coast of Japan.
The collision damaged Fitzgerald's forward starboard side above and below the water line, causing significant damage and associated flooding to two berthing spaces, a machinery space, and the radio room, which sailors quickly began dewatering.
Homeported in Yokosuka, the Fitzgerald is an Arleigh Burke-class guided-missile destroyer with a crew of approximately 330 sailors and is 505 feet long.
As of press time, the cause of the collision is still unknown. Conditions at the time the accident happened, which occurred about 2:20 a.m. local time, were clear, though the area—about 56 nautical miles southwest of Yokosuka is often busy with sea traffic.