London, England – As of June 15, British Prime Minister Theresa May has confirmed the number of people killed by the London fire in Grenfell Tower reached 17, while 37 are injured.
"We need to know what happened, we need to know an explanation. We owe that to the families, to the people who have lost loved ones and the homes in which they lived," May said, making sure "this terrible tragedy is properly investigated."
The London mayor, Sadiq Khan, said in an earlier call for a public inquiry that it should produce an interim report by the summer.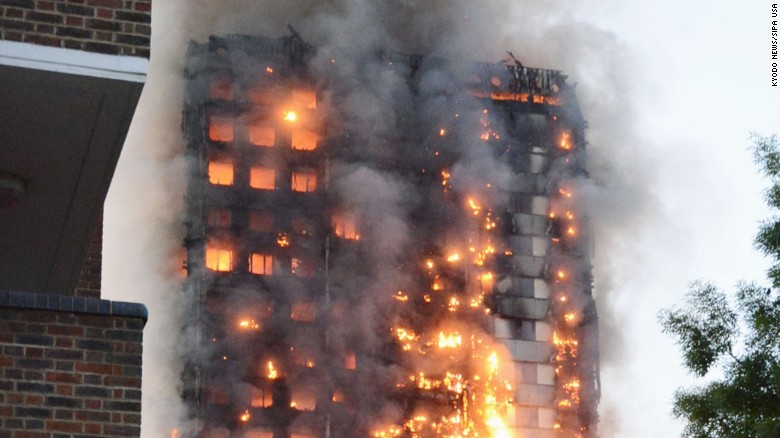 Firefighters were still working to dampen the blaze and search for remains of the dead Thursday. Photo by CNN
As of press time, dozens of people are still missing however, the London Fire Chief said there is little chance of finding anyone else alive in the charred remains of the tower.
Prominent London Member of Parliament David Lammy of the opposition Labour Party said corporate manslaughter charges should be brought against those held responsible for the London fire tragedy.
"We built buildings in the 70s, those 70s buildings, many of them should be demolished, they haven't got easy fire escapes, they've got no sprinklers – it's totally, totally unacceptable in Britain that this is allowed to happen and people lose their lives in this way and people should be held to account," Lammy exclaimed.
May's government was bombarded with questions about why ministers did not act on recommendations following an earlier fire in London, which led to calls for sprinkler systems to be installed in residential blocks and for a full review of Britain's fire regulations.
The 43-year-old 24 storey building that has been burned by the London fire had recently undergone a massive $13.2M (£10.3M) refurbishment carried out by private developers Rydon and completed in the summer of 2016 and housed about 500 people.
Meanwhile, more than £1 million has been raised to help those affected by the London fire, while volunteers and charities helped feed and shelter people who could not return to their homes overnight.