Following the deadly attack in Paris three days ago, France pushed through the first round of the presidential election on Sunday, April 23, deploying about 50,000 police and 7,000 soldiers across the country for a much secure polling.
With 11 candidates vying for the presidency, polls suggest far-Right Marine Le Pen and Emmanuel Macron, an independent centrist and former economy minister, were in the lead. Following nearby is conservative Francois Fillon, a former prime minister, and far-left candidate Jean-Luc Mélenchon.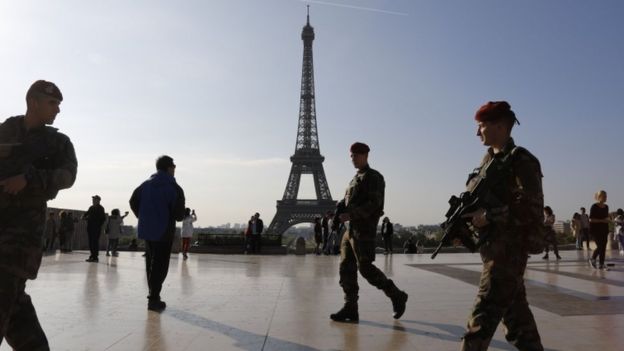 Security over France heightens during the voting after a deadly attack happened three days before the election. Photo by BBC
Polling stations in France opened at 08:00 local time (06:00 GMT), although some overseas territories began the voting on Saturday. Voting ends at 20:00, with exit polls expected quickly afterward.
Increasing slightly from the corresponding 2012 figure of 28.29 percent, the voters turnout by noon was 28.54 percent of the electorate.
The election is taking place under a state of emergency, which was imposed following the attacks in Paris in November 2015. The second round of voting between the top two contenders will occur on May 7.