Thousands of Venezuelan elderlies, accompanied by their grandchildren, clashed with the police on May 12 in their protest called "Grandparents' March" against the government of President Nicolas Maduro in the streets of Caracas.
"I'm here to defend my grandchildren, to defend my country," 78-year-old Rafael Colmenares told Reuters news agency during the demonstration in Caracas.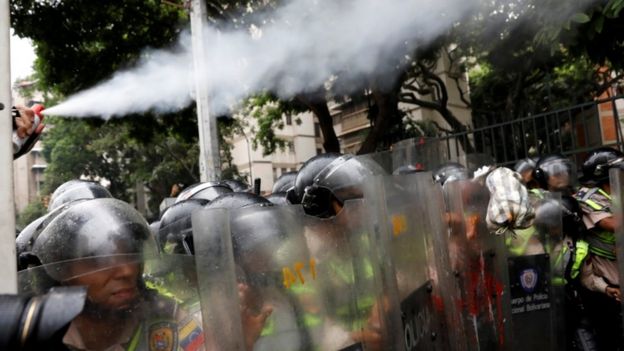 Riot police used pepper spray to try to disperse the crowd. Photo by Reuters
Some demonstrators pushed against the plastic shields of officers, who at times responded with bursts of pepper spray, according to videos posted on social media.
With wheelchairs and walking sticks or on their feet shouting and waving their fists, some 2,000 demonstrators challenged police who blocked their way in central Caracas and fired pepper spray to deter them.
"We do not want a dictatorship, we want to grow old with dignity, medicine, food and freedom," said Lourdes Parra, 77, wrapped in a red, yellow and blue Venezuelan flag.
The country's problems involved shortages of home staples like milk, flour and toilet paper, rolling blackouts, rising unemployment and soaring violent crime and for the elderly, life is tougher. Many live on public pensions that pay them about $15 dollars a month. People older than 70 cannot purchase private medical insurance.
Many blame Maduro for the crisis, which intensified after his administration barred opposition leader Henrique Capriles from running for any political office for 15 years.
"Respect the elderly," many demonstrators shouted.