Officials reported Former NFL star killed himself in his Massachusetts prison cell on Wednesday morning, April 19, days after his acquittal in a double murder case.
Discovering his body at 3:05 AM, the 27-year-old former tight end for the New England Patriots hanged himself with a bedsheet attached to a window in his cell at the Souza-Baranowski Correctional Center in Shirley, the Massachusetts Department of Correction said.
"Lifesaving techniques were attempted on Mr. Hernandez, and he was transported to UMass Leominster, where he was pronounced dead at 4:07 a.m.," the correction department's statement reads.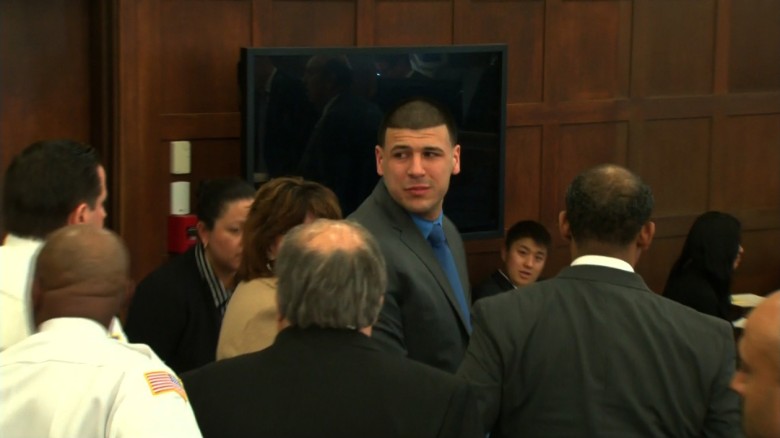 New England Patriot Aaron Hernandez was also dogged by allegations of failed drug tests and was picked by the Patriots in the fourth round of the 2010 NFL Draft. Photo by CNN
In April 2015, Hernandez was found guilty of first-degree murder in the death of Lloyd two years prior. Lloyd, a former friend who dated the sister of Hernandez's longtime fiancee, Shayanna Jenkins, was shot several times by the same kind of gun security footage showed Hernandez possessed.
After being charged in the Lloyd case, investigators began to probe the deaths of Daniel de Abreu and Safiro Furtado to Hernandez, who were both killed in a vehicle after leaving a Boston nightclub in July 2012, weeks before Hernandez reported to Patriots camp ahead of his third and final season with the Patriots.
Hernandez grew up in Bristol, Connecticut and played with the Patriots from 2010-2012. The potential hall of famer shined for the New England and was even rewarded with a $40 million worth of five-year extension, only to spend it more inside the prison rather than the team.
Meanwhile, the news of Hernandez's death comes on the same day that the Patriots are scheduled to visit the White House as winners of Super Bowl LI held in Houston
"We are aware of the reports (about his death), but I don't anticipate that we will be commenting today," said Patriots spokesman Stacey James.