Will.i.am confirmed in an interview with Ahlan! Magazine on Thursday that the only-girl member of the Black Eyed Peas officially left the band.
"Since the beginning of Black Eyed Peas, we've always had amazing vocalists that appeared on the mic with us," Will.i.am explained to the United Arab Emirates-based entertainment magazine.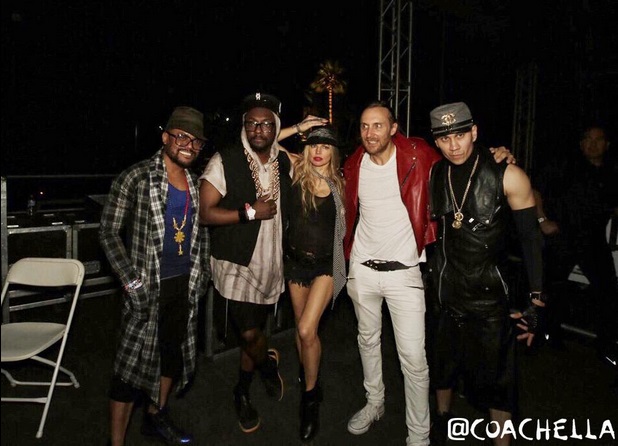 The Black Eyed Peas, with David Guetta, in their last performance as a complete group in Coachella 2015. Photo by Celebnmusic247
Fergie, not yet commenting on the issue, joined the group as a lead vocalist in 2002 and helped it become one of the most famous pop and hip-hop bands in the world. She has not recorded new music with the Black Eyed Peas in more than five years, concentrating more on her solo career and last performed with the group at the 2015 Coachella Valley Music and Arts Festival.
Ahlan! Asked Will.i.am if they have plans replacing Fergie.
"As for replacing, what people know The Black Eyed Peas to be, nobody is replacing Fergie," he said. "She's working on her solo project at the moment, we're on this brand-new experience, celebrating 20 years of Black Eyed Peas putting out music. We worked on a bunch of songs on her solo record, we're proud that she has her label, but Black Eyed Peas are pushing it forward in terms of content, technology and experiences on our new project, Masters of the Sun."
Their new project, Black Eyed Peas Present: Masters of the Sun—The Zombie Chronicles, is a zombie alien invasion hip-hop graphic novel he co-created that will be released by Marvel in July.
Meanwhile, rumors spread that Nicole Scherzinger will replace Fergie.
"Nicole is on the new BEP project as well. I don't want to go into details how she's involved yet," Will.i.am said.