Ex-North Korea detainee Otto Warmbier arrived in the United States on Tuesday after 17 months of detention in North Korea. On Thursday, the doctors said in a press conference that Warmbier is suffering a condition they described as "unresponsive wakefulness."
Also known as persistent vegetative state, the syndrome's symptoms include no voluntary movement or awareness of surroundings. Dr. Daniel Kanter, professor of neurology and director of the Neurocritical Care Program, said Warmbier opens his eyes and blinks spontaneously but shows no signs of understanding language or responding to verbal commands.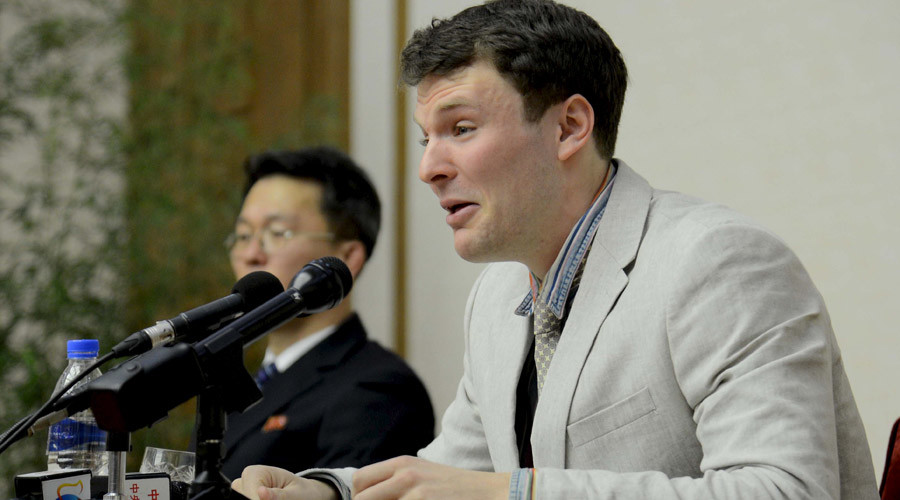 Otto Warmbier gives teary apology to North Korea on February 29, 2016. Photo by KCNA / Reuters
"We have no certifiable knowledge of the cause or circumstances of his neurological injuries," Kanter said.
"This pattern of brain injury is usually seen as result of cardiopulmonary arrest where blood supply to (the) brain is inadequate for a period of time, resulting in the death of brain tissue."
The doctors said North Korea's assistance to Warmbier's condition was not disclosed. Though they could not say with certainty what caused his injuries, they found no evidence to support the botulism claim by North Korea.
"There's no excuse for the way the North Koreans treated our son. And no excuse for the way they've treated so many others," Fred warmbier, the 22-year-old victim's father, said. "No other family should have to endure what the Warmbiers have."
Otto Warmbier was a University of Virginia student when he was detained in January 2016 at Pyongyang airport on his way home after North Korean authorities claimed Warmbier tried to steal a banner containing a political slogan that was hanging from a wall of his Pyongyang hotel.
Warmbier was found guilty of committing a "hostile act" against the country and sentenced in March 2016 to 15 years of hard labor.