US President Donald Trump finalizes his decision to withdraw the United States from the Paris climate agreement on Thursday at the White House.
"We're getting out," Trump said. "And we will start to renegotiate and we'll see if there's a better deal. If we can, great. If we can't, that's fine."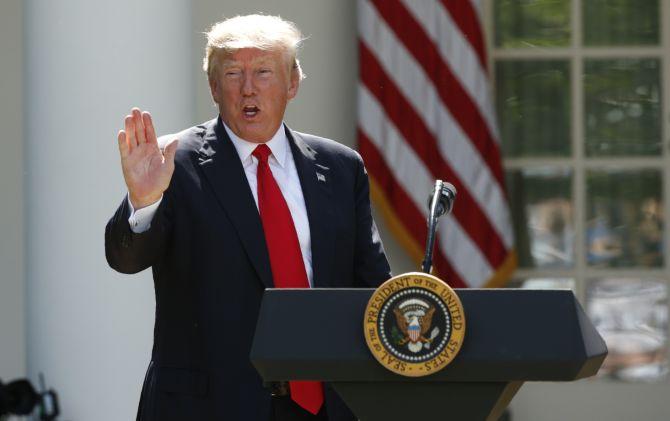 US President Donald Trump announces his final decision to withdraw the United States from the Paris climate agreement. Photo by Rediff
Leaders of France, Italy, and Germany, however, indicated in a joint statement that the US could not unilaterally renegotiate the agreement as the UN body that facilitated the deal said it "cannot be renegotiated based on the request of a single party."
Being the world's second largest emitter of greenhouse gases, the US joined Syria and Nicaragua as the only countries discorded to the Paris agreement. There will be no penalty for leaving, with the Paris deal based upon the premise of voluntary emissions reductions by participating countries.
"As someone who cares deeply about our environment, I cannot in good conscience support a deal which punishes the United States," the President said. "The Paris accord is very unfair at the highest level to the United States."
Trump listed sectors of the United States economy that would lose revenue and jobs if the country remained part of the accord, citing a study which says the agreement would cost 2.7 million jobs by 2025.
"I was elected to represent the citizens of Pittsburgh, not Paris," Trump also reiterated, drawing support from members of his Republican Party but denouncement from political leaders, business executives, and environmentalists around the globe.
Meanwhile, former President Barack Obama, whose administration negotiated the Paris accord, wrote Trump's decision would leave American workers behind those in countries who remain a part of the agreement.
"The nations that remain in the Paris Agreement will be the nations that reap the benefits in jobs and industries created," Obama wrote. "I believe the United States of America should be at the front of the pack. But even in the absence of American leadership; even as this Administration joins a small handful of nations that reject the future; I'm confident that our states, cities, and businesses will step up."
Canadian Prime Minister Justin Trudeau, French President Emmanuel Macron, and even Tesla Chief Executive Elon Musk, expressed disappointment with Trump's decision.