Roaring with boos from a 56,000 crowd that filled the London Stadium, Usain Bolt hugged his rival Justin Gaitlin as the American trackster wrecked the Jamaican Legend's farewell run in the 100 m final on August 5.
Bolt finished the race in third place, congratulating the controversial Gaitlin for being "the better man" this time.
Here's an interview we're not used to seeing from Usain Bolt.#London2017 #bbcathletics #BeTheNext pic.twitter.com/LLRX2bw4fM

— BBC Sport (@BBCSport) August 5, 2017
"I've proved to the world I'm one of the greatest athletes," said Bolt. "I don't think this changes anything. I've done my part as an athlete, to uplift the sport and show it's getting better. I can't be too disappointed. I did my best. It's hard to be sad with the energy that the crowd was giving me. They stayed and they shouted and they cheered."
"I put a little pressure on myself because I knew if I didn't get my start and get into the race early, I might be in trouble. I got behind a little too much. I was behind and thought: 'I have to work to get back in the race as quickly as possible.' In the end, it wasn't enough," he added.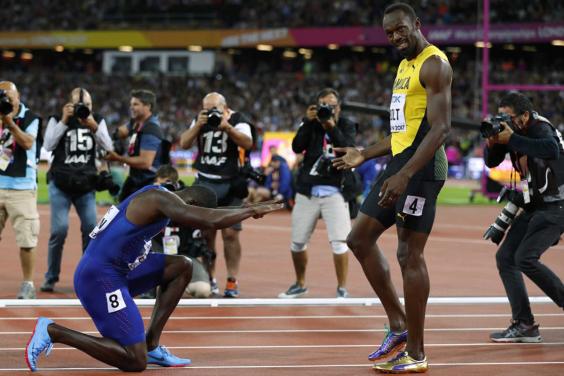 Justin Gaitlin bows down to Usain Bolt after dethroning the fastest man alive in the 100 m final on Saturday.
Ignoring the boos, 35-year-old Gaitlin honored Bolt after their race. "We're rivals on the track but in the warm-down, we were joking with each other. He said: 'Congratulations.' And said: 'You don't deserve all these boos.' I thank him for that and for inspiring me.
"Usain is an electrifying character who has run sizzling times, mind-blowing times, and throughout the years he has always kept it classy. He has inspired me to be a faster, stronger competitor. I have only wished every year to be his top rival," Gaitlin shared.
Bolt was hailed as a legend being an eight-time Olympic champion and being the fastest man alive. He is the first person to hold both the 100 metres and 200 metres world records since fully automatic time became mandatory.